UPDATE
Exact location of Panther Tracts, LLC. revealed on Hendry County, Florida Map TWP 48S - RNG 31E, # 34 -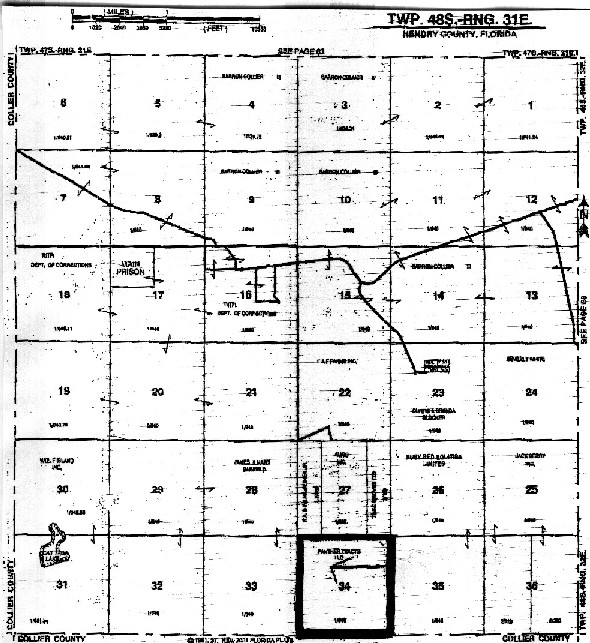 Aerial photo of property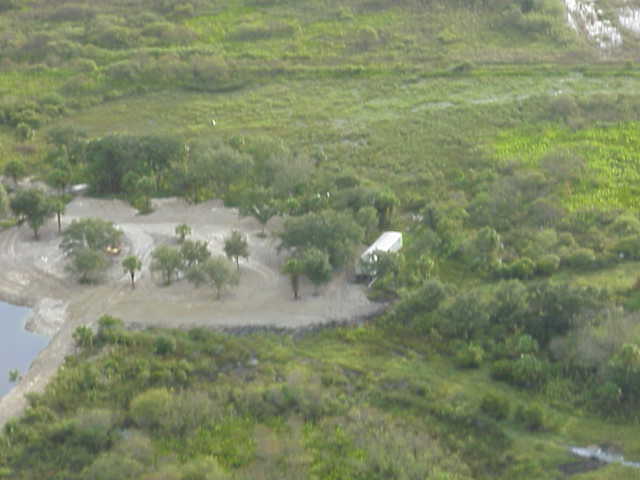 The Panther Tracts parcel is just southeast of #17 which is the location of the Hendry County Correctional Facility. The address of the Correctional Facility is 12551 Wainwright Drive, Immokalee, Florida. Directions: Take I-75 to SR-82 (Exit 23). East on SR-82 to SR-29 (approximately 30 miles), then south on 29 through Immokalee to CR-858 (approximately 15 miles). East on SR-858 (approximately 6 miles). The southern border of the Panther Tracts parcel is on the Collier County line.
Area Map Expanded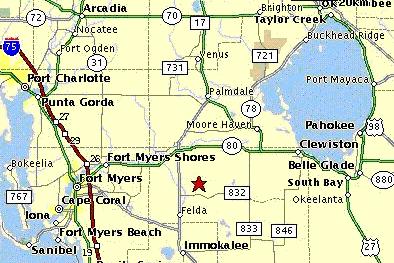 "In South Florida, the environment is the economy."
Carol Browner, Administrator, US Environmental Protection Agency
October 7, 1998 Board of Governors and Trustees Luncheon
Greater Miami Chamber of Commerce

Background
In June 2000, Panther Tracts, LLC purchased 640 acres of land in Hendry County, Florida, (Hendry County Property Appraisers Code 1 34 48 31 A00 000l.000) using the property location identification address of 34200 Dump Rd., Clewiston, FL.
Panther Tracts, LLC shares a business address with an organization called Primate Products, Inc at 7780 NW 53rd. Street, Miami, FL 33166 (to access the incorporation documentation, go to the State of Florida's Division of Corporation's website at http://www.sunbiz.com and use the search function to find 'Panther Tracts'.)
Primate Products, Inc. is owned by Paul Houghton and managed by Donald A. Bradford, President.
Primate Products, Inc. also has an office at 1755 East Bayshore, Suite 28a in Redwood City, CA 94062. The California office is currently registered as a Research Facility by the United States Department of Agriculture, Animal and Plant Health Inspection Service under Certificate 93-R-0369.

F.R.E.E. has been informed that representatives of Panther Tracts, LLC, and Primate Products, Inc. together with Douglas Industries, Inc. a division of Schering-Plough are currently in the process of attempting to obtain permits to build one of the largest primate breeding and contract research facilities in the nation on this property. F.R.E.E. has been advised that 4,000 to 5,000 monkeys (macaques from Indonesia) could be accommodated at this site.
In response to questions about the Panther Tracts, LLC. venture from a F.R.E.E. supporter, on
27 August 2001, Barry Cook of Florida's Fish and Game Department wrote the following:
Primate Products Inc. bought 640 acres of land in Hendry County in June 2000. The land is located south of Immokalee near the Collier County Line. They have added this parcel with the USDA as an additional permitted site location in addition to their existing Miami location. They have not yet applied for a permit at the Hendry County location with the FWCC. Primate Products Inc. plans to eventually establish a facility to breed primates and develop products for primates as they do now. They do not do medical research themselves nor is any medical research conducted at their site. They have no plans to do medical research, however they do breed and sell primates to other USDA licensed facilities. There is no contract with Douglas Industries, Inc. or any other entity to do to do medical research at this site. We do anticipate a license application soon to possess wildlife for sale and exhibition at the Hendry County site. Hopefully this will answer your constituents questions. Thank you, Barry Cook

Multiple inquiries made to Schering-Plough executives (specifically Jonathan Spicehandler, President, Schering-Plough Research Institute, and Theodore Sanders) to confirm the corporation's involvement with the Panther Tracts venture have been ignored. [F.R.E.E. is curious about what Schering-Plough is attempting to hide. Is the lack of response perhaps an admission of guilt?]

If this facility is allowed to be built, it will be near the following ecologically-sensitive sites: Big Cypress Seminole Indian Reservation, Miccosukee Indian Reservation, Florida Panther National Wildlife Refuge, Audubon Society Corkscrew Swamp Sanctuary and the Big Cypress
National Preserve.

The possible extremely adverse ecological effect on these locations (as well as the overall Florida Everglades) should be immediately evident. It is of major concern to our organization.

Based on the millions or billions of dollars, both state and federal, that are scheduled to be expended for the Florida Everglades Restoration Plan, it would seem essential that this apparent unsatisfactory ecological situation be addressed and investigated by the appropriate authorities as quickly as possible.

F.R.E.E. is calling on Hendry and Collier County residents --- and all others concerned about the Everglades --- to TAKE ACTION TODAY to protect the area's 290,000+ residents and over 141 square miles of water. Say "NO!" to Panther Tracts, LLC bringing its waste to Hendry and Collier Counties!